Studio Classes
The two types of classes I teach are Vinyasa Flow and Restorative Bliss. Group classes are held in the St. Lawrence Gap, at the lovely Castaways Bar & Grill in the mornings, or at the Tiki Bar on Accra Beach.  Please book in advance, as space and mats may be limited, and classes are subject to cancellation based on numbers and weather conditions. Thanks!
Private classes are available upon request and can be structured to suit your personal level of experience, as well as time of day and location preferences.
SUP (stand up paddle) yoga is held on the west coast of the island at Port St Charles. These classes are taught with the same Vinyasa Flow style, but modified to make it more accessible while balancing on a floating object! Private classes can be booked upon request to accommodate your schedule and location.
Current Schedule for AUGUST 2021: Most of our classes are now in-person with plenty of space, and some classes are still happening on Zoom. If you wish to practice virtually, please download the free app and join our Barbados yoga community from wherever you are! Please note class times are in Eastern Standard Time:
Monday Morning Vinyasa Flow 9:30-10:30am (Zoom)
Tuesday Vinyasa Flow 9:30-10:30am (Castaways)
Thursday Vinyasa Flow 9:30-10:30am (Castaways)
Thursday Restorative Bliss 5-6pm (Zoom)
Saturday Vinyasa Flow 9:30-10:30am (Castaways)
Sunday SUP Yoga 9:00-10:00am (Port St Charles)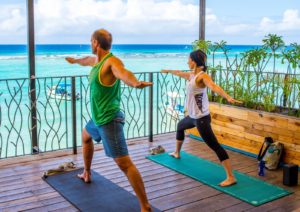 Please book classes in advance so that I can let you know about any changes or updates. Reserve your spot by emailing me at jenncoco@hotmail.com, or by calling/messaging me at (246)838-2185. You can also see the schedule and reserve your space by contacting me on Facebook or Instagram
Click here to take some of my classes on YouTube