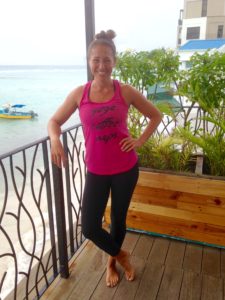 Welcome to Yoga Samudra in beautiful Barbados! I invite you to fall in love with your yoga practice on this amazing island, just like I did!
I first came to Barbados in 2004 as an exchange student at the University of the West Indies, Cave Hill. In the years that followed, I came back to Barbados numerous times for vacation, until I finally followed my heart to permanently relocate here.
And now, I look forward to practicing with YOU – whether you are a visitor or a resident – as we focus on building strength, stability, and flexibility in the physical body; emphasizing clarity, focus, balance, and releasing tension in the mental/emotional body. Namaste!
Book Now!
Schedule for 2023: Most of our classes are now in-person with plenty of space, and some classes are still happening on Zoom. If you wish to practice virtually, please download the free app and join our Barbados yoga community from wherever you are! Please note class times are in Atlantic Standard Time:
Monday Vinyasa Flow 9:30-10:30am (Castaways and on Zoom)
Tuesday Vinyasa Flow 9:30-10:30am (Castaways)
Tuesday Evening Flow 6:00-7:00pm (Sage Grace)
Wednesday Gentle Stretch 9:30-10:30am (Castaways)
Thursday Vinyasa Flow 9:30-10:30am (Castaways and on Zoom)
Thursday Gentle Stretch 6:00-7:00pm (Sage Grace)
Friday Gentle Stretch 9:30-10:30am (Castaways)
Saturday Vinyasa Flow 9:30-10:30am (Castaways)
Sunday SUP Yoga 8:00-9:00am (Port St Charles)
Please book classes in advance so that I can let you know about any changes or updates. Reserve your spot by emailing me at jenncoco@hotmail.com, or by messaging me at (246)838-2185. You can also see the schedule and make a reservation on Facebook or Instagram
Click here to take some of my classes on YouTube