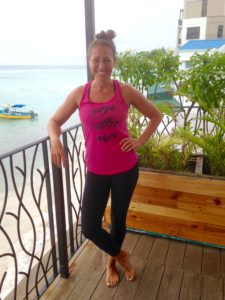 Hello I'm Jen Coco, and welcome to Yoga Samudra!
I fell in love with Barbados 15 years ago, when I came here in 2004 as an exchange student through the University of California Santa Cruz. I spent 8 months studying literature and education at the University of the West Indies, Cave Hill. In the years that followed, I came back to Barbados for vacation nearly every year, lengthening my stay each time. Finally in 2012, I made a more permanent move here and have been happy with my decision ever since.
My older sister introduced me to yoga several years ago when she became a certified instructor. Over the years I did some yoga here and there, but really got hooked on it in 2011. When I found an awesome studio In Santa Cruz and a teacher I really connected with, my practice finally became consistent. Since then I haven't been able to live without yoga – it is now my lifestyle. At the beginning of 2014 while living in Barbados I realized that I could not find any local yoga classes to attend. I suddenly felt a desire to combine my passion for yoga and education and share it with others, so I began offering classes. I found that I loved teaching yoga as much as taking classes, and so I signed up immediately for a teacher training program.
I finished my 200 hour RYT certification program in February 2015 from Tiffany Cruikshank and Yoga Medicine, and am now registered with Yoga Alliance. I recently completed the first 60 hours toward my 500 hour certification, and look forward to continuing to grow and learn as an instructor, and to share the gift of yoga with others. My focus is strength, stability, and flexibility in the physical body, with an emphasis on clarity, focus, and self-love in the mental/emotional body. Namaste <3
Current Schedule:
Monday Vinyasa Flow 9:30-10:30am @ Castaways Bar & Grill (entrance of the St. Lawrence Gap)
Tuesday Level 1/Beginner Vinyasa Flow 5:30-6:30pm @ Fitness Zone (in Hastings)
Wednesday Vinyasa Flow 9:30-10:30am @ Castaways
Thursday Restorative Bliss 5-6pm @ St. Lawrence Beach Condos (in the Gap)
Friday Vinyasa Flow 9:30-10:30am @ Castaways
Saturday Level 1/Beginner Vinyasa Flow 9:30-10:30am @ Fitness Zone
Sunday Vinyasa Flow 9-10:15am @ Castaways
Please book classes in advance so I can let you know about any changes or updates. Reserve your spot by emailing me at jenncoco@hotmail.com, or by calling/messaging me at (246)838-2185. You can also follow and/or message me on Facebook and Instagram