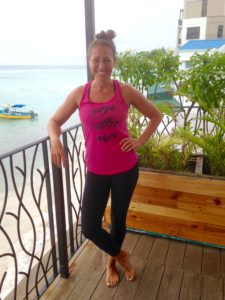 Welcome to Yoga Samudra in beautiful Barbados!
I invite you to fall in love with your yoga practice on this beautiful island, just like I did!
I first came to Barbados 16 years ago, when I was an exchange student at the University of the West Indies, Cave Hill. In the years that followed, I came back to Barbados for vacation numerous times, until finally I followed my heart to make a more permanent move here.
My own yoga practice became really consistent, and a part of my lifestyle, in 2011 when I found an awesome studio a teacher I really connected with. Upon moving to Barbados, however, I realized that I could not find any local yoga classes to attend. I felt a compelled to try my hand at teaching it, and soon found a deep passion to continue to share the practice with others. Since then, I haven't looked back!
I can't wait to share my classes with you, as we focus on strength, stability, and flexibility in the physical body; emphasizing clarity, focus, and release in the mental/emotional body. Namaste!
Current Schedule: ALL CLASSES ARE TAKING PLACE ON ZOOM UNTIL MAY 3rd ~ download the free app and join our Barbados yoga community from wherever you are! Email or message me to receive an invite to a meeting. Please note times below are in Eastern Standard Time. Namaste!
Monday Vinyasa Flow from 9:30-10:30am
Tuesday Restorative Bliss from 5-6pm
Wednesday Vinyasa Flow from 9:30-10:30am
Friday Vinyasa Flow 9:30-10:30am
Saturday Restorative Bliss from 10-11am
Sunday Vinyasa Flow 9:30-10:30am
Please book classes in advance so I can let you know about any changes or updates. Reserve your spot by emailing me at jenncoco@hotmail.com, or by calling/messaging me at (246)838-2185. You can also see the schedule and reserve your space by contacting me on Facebook or Instagram
Click here to take some of my classes on YouTube