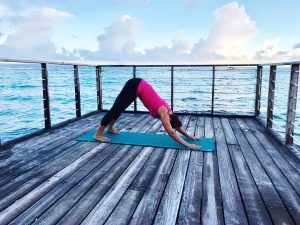 The style of yoga I teach is Vinyasa flow, which focuses on linking movement and breath together, using fluid transitions to move between poses. These classes bring together elements of strength, stability, and flexibility, offering plenty of movement and sweat, as well as breathing techniques and meditation. Most classes are geared toward level 1/2 students. All levels are welcome, and beginners as well a more advanced yogis will find a calm, beautiful space to practice in, leaving the mat feeling rejuvenated and refreshed.
If you're looking for a more restorative practice, I also teach Restorative Bliss once a week to really focus on slowing down, breathing deeply, rejuvenating the mind, and re-lengthening the muscles.
Private classes are available upon request and can be structured to suit your personal level and experience.
All classes are 60 minutes long, however private classes can be shorter or longer depending on your preference. And I always have extra mats, so please let me know in advance if you'd like to reserve one – no extra charge! 🙂
Updated Schedule:
October 16th – 22nd 🙂