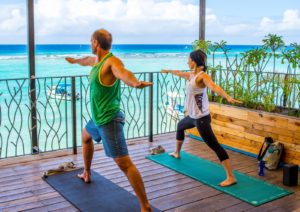 The style of yoga I teach is Vinyasa Flow, which links movement to breath, fluidly moving and transitioning between poses. These classes bring together elements of strength, stability, and flexibility, offering plenty of movement and sweat, as well as breathing techniques and meditation. Most classes are geared toward level 1/2 students. All levels are welcome, and beginners as well a more advanced yogis will find a calm, beautiful space to practice in, leaving the mat feeling rejuvenated and refreshed.
If you're looking for a more restorative practice, I also teach a weekly Restorative Bliss class which really focuses on slowing down, breathing deeply, rejuvenating the mind, and re-lengthening the muscles.
Private classes are available upon request and can be structured to suit your personal level and experience. Typically classes are 60 minutes long, however private sessions can be shorter or longer depending on your preference.
SUP (Stand-Up Paddleboard) yoga is held seasonally (November – April) on the west coast of the island. These classes are taught with the same Vinyasa Flow style, but modified to make it more accessible while balancing on a floating object! Off-season classes can be booked privately upon request to accommodate your schedule and location.
Current Schedule:
Monday Vinyasa Flow 9:30-10:30am @ Castaways Bar & Grill (entrance of the St. Lawrence Gap)
Tuesday Level 1/Beginner Vinyasa Flow 5:30-6:30pm @ Fitness Zone (in Hastings)
Wednesday Vinyasa Flow 9:30-10:30am @ Castaways
Thursday Restorative Bliss 5-6pm @ St. Lawrence Beach Condos (in the Gap)
Friday Vinyasa Flow 9:30-10:30am @ Castaways
Saturday Level 1/Beginner Vinyasa Flow 9:30-10:30am @ Fitness Zone
Sunday Vinyasa Flow 9-10:15am @ Castaways
Please book classes in advance so I can let you know about any changes or updates. Reserve your spot by emailing me at jenncoco@hotmail.com, or by calling/messaging me at (246)838-2185. You can also see the schedule and reserve your space by contacting me on my Facebook and Instagram